For some silly reason a JDM Forester XT (SJG) comes with a single rear fog light on right side (and a dummy on left side).
I am amazed that these rear fog lights are not disabled during compliance. They are useless, annoying and illegal in NZ.
Too many times I was stuck behind an oblivious BMW driver in rain only to be blinded by their rear fog lights.
In my opinion these people who drive with rear fog lights should be fined.
So, the rear fog light got to go.
Since I did not want to have a lower row of lights to be completely useless I decided to convert them to another stop/park light set. At same time I replaced all the bulbs with LED lights.
The only thing that I need to purchase is a set (2x) of 7443 sockets. One small mistake was ordering the sockets with 4 clips (vs 3 clips), thus not only needed to drill and cut out dummy side, I also needed to modify the fog light side to accept 4 clip socket. I could not reuse the fog light socket due to it being 2 wire (as I wanted fully functional light, not just stop).
Results, before and after (Stop lights, reverse and indicator on):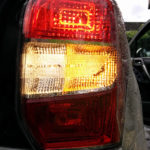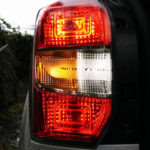 The process.
Light is only held by two screws (use 10mm socket, even though the fasteners also have JIS "+" slot):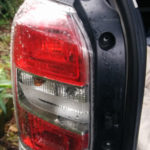 Disconnect loom: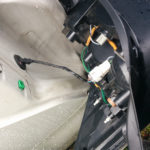 On left light:
Here is what the dummy light looks on the back: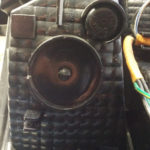 I marked with soldering iron indent for easy drilling of pilot hole: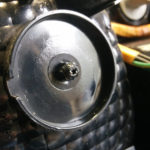 Drilled pilot hole for hole saw: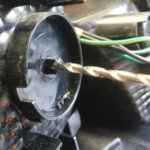 Drilled 21mm hole with hole saw (carefully, as it is possible to smash through):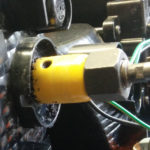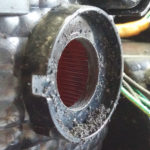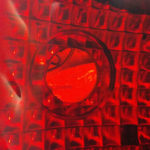 Test fitted the socket: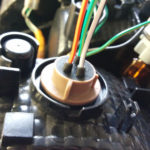 On both sides:
Spliced, soldered and heat shrunk the wires (note: the Green-White wire is for stop):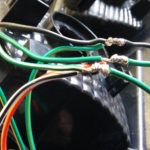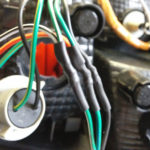 Drilled corners for locator slots with 2mm drill bit: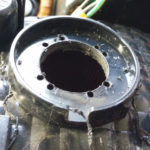 Then cut them with sharp blade: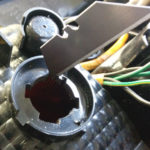 On right side I cut and heat-shrunk the fog light wires: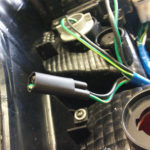 Note: thoroughly vacuum inside of the lights to get rid of the plastic debris left from drilling and cutting!
Bonus content.
Fog light up close: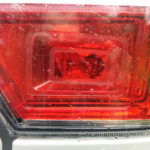 Dummy light up close: