Changing transmission oil should be a simple process, but in case of Toyota CVT (2004 Toyota Vitz RS in this particular case) it is not very simple.
Yes, the drain plug is not really a drain plug.
Yes, the sump has to come out, and new gasket is needed.*
* Except I believe there is another way (quick and lazy) as the oil can be sucked out via the filler plug given the tube is rigid enough. I haven't tried this method. It is lazy because you don't inspect and clean the magnets, and you cannot tell the condition of the transmission beyond the oil condition.
Here you will find how I changed it (not necessarily 100% "by the book", just applied common sense with some googling).
What is needed:
Jack
Axle stands
Oil tray
Funnel
~12mm diameter, ~1m long hose (to attach to said funnel)
6mm hex socket (for sump plug)
10mm socket (for sump and filler plug)
New sump gasket (p/n 39168-52040 for Vitz RS)
Toyota Genuine CVT Oil (p/n 08886-02105 for Vitz RS)
New sump plug washer
Toyota would not tell me how much oil is a normal fill. Basically I was told to put the same amount that came out. To figure out correct volume I drained old oil into an empty container and weighted it. Then I emptied old oil out and matched the weight (in same container +100g for spillage) with new oil. Basically I had about 2.8kg of oil (excluding 275g container weight) in the sump (about 3.2-3.5L depending on the temperature and spillage). It works out that oil must be just below the filler hole that I used.
To drain the oil one needs to remove the sump "plug" (6mm hex).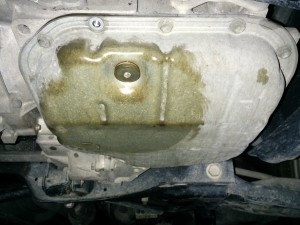 It is not a real drain plug as only about 200ml-300ml would come out. Once the fluid stops draining, use the same 6mm hex socket in the hole where the sump plug was, and gently unscrew the plastic tube. This time there will be about 1-1.5L of fluid coming out.
Here is the plastic tube that sits inside of the drain hole: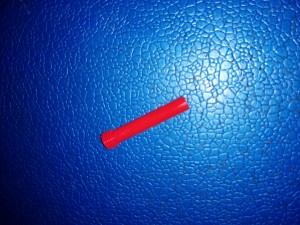 By removing the plastic tube the oil level will become just below the gasket line, if the car is jacked up front up the fluid will be above the gasket line (about 200-300ml) on the far side of the sump (due to angle of the car). The spill can be avoided if the rear of the car is jacked up as well to make it levelled. I found this hard way.
Once it is drained via sump plug, put the plug back in and unscrew 10mm bolts holding the sump. You will find the sump is "stuck" and will need a gentle pry to remove it. Watch out for oil as there is about 1L of oil left in the sump!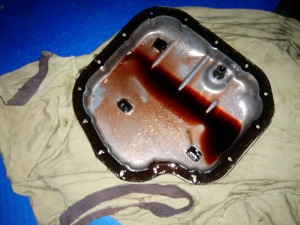 Clean magnets while the sump is out (they should have minimal amount of shavings):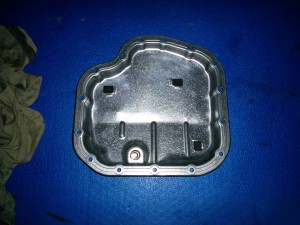 New gasket: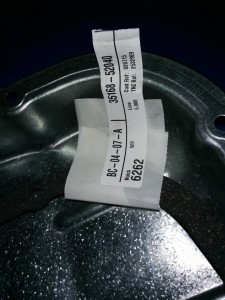 Make sure the mating surface is clean: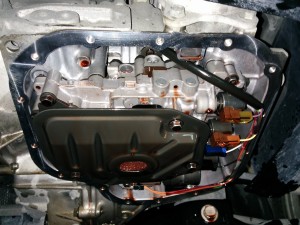 Don't forget to screw in the plastic tube! It goes in the same way it came out.
Check the condition of the strainer (should be clean).
The torque that the sump screws needed to be tighten to is very tiny (8-10Nm), I don't have exact figure, but it should not be too different from other Toyota auto transmissions (hence the 8-10Nm figure), it must be done evenly. Do not over tighten, as the torque required is almost finger tight! I tightened it in multiple passes (allowing gasket to spread evenly). Best way to start once the sump is held by all screws, is to undo all screws so there is a play (sump can be pushed up) and tighten them in criss-cross pattern with very small torque evenly.
Oil comes in a metal tin can: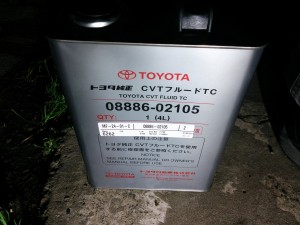 The filler hole (in the centre of the picture, black flat oval plug) is located where the dipstick on normal auto will be, it is blocked by a plug held by a 10mm screw: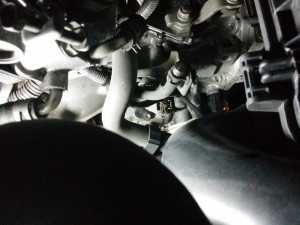 To find it just look down from throttle body, it will be just below the transmission breather, in midst of various plugs a next to oil cooler.
Here is the filler plug up close: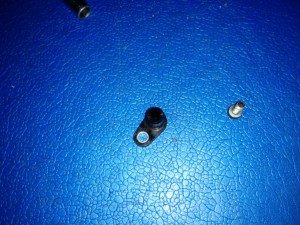 I used a funnel with a plastic hose to fill new oil:

Here is another angle of the filler with tube in it: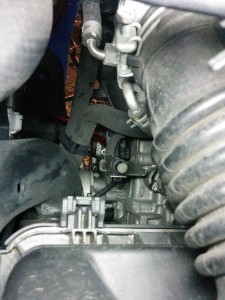 As interesting note to this exercise, one could retrofit dipstick from conventional auto, as well as to weld on a real sump plug, to make these changes easy enough (although they are not frequent enough to warrant such measures).