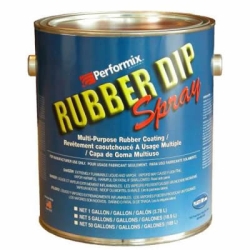 Plastidip! What an awesome idea, change your car colour without the actual damage and cost of actual paint job. It is completely reversible, and creates a protective rubber like layer.
Made by Performix, here is some official info http://dipheadsunite.com/how-it-works/
Heavily promoted on social media by www.dipyourcar.com
Here is their youtube chanel.
They explain really well what is plastidip:

They sell nice kits, like this one:
Professional Large Car Extra Coverage Kit 4 Gallons
For very affordable, $384 USD (~$500 NZD) it has everything that is need to do a reversible colour change.
What an awesome product.
Not in New Zealand.
dipyourcar.com will not ship to New Zealand due to it being dangerous goods. That is understandable.
I don't really need a kit, all I need is about 10L or so of actual dip, so I enquired with Performix regarding who can sell me 3.78L cans of the stuff, to which I was sent to their local distributor Griffiths.
When called Griffiths regarding the price and availability I was sent to their resellers as they do not deal with public (very common in NZ, goods pass resellers two or three times, while each takes a cut before they get to public).
Their reseller could not give me price immediately, but upon calling back they came up with ridiculous ~$550+GST for 1 can of 3.78L plastidip.
Compared to $59.74US (~$78NZD) dipyourcar.com.
With that price, it would cost me about $2500-3000 to dip my car. A quality respray job is about $5000, and good old wrapping in vinyl is about $2000-$3000 (without me doing anything). It makes no sense!
I bet that dipyourcar.com still makes a lot of money by selling these cans at $60USD.
Since then I found another retailer that sells these cans for slightly more affordable ~$250. So now it would cost me about $1000 to "dip my car". Still that price is over 250% mark-up.
As usual kiwis being ripped off by fellow kiwis.
How dare these greedy business owners to complain that online shopping is killing their business if their business is 100% based on ripping people off?
This is why people go to length to pay retail prices in USA, get things shipped for exuberant shipping costs via Youshop, pay Duty+GST for importing goods and deal of limited support due to shipping costs.
It is not like the sellers in USA do not make money of the sales to kiwis…
Most common excuse I hear from such greedy businesses is it is expensive because of Consumer Guarantee Act, but hold on a second, what about Amazon, and how easy it is to return the items, they still didn't run out of business, did they?
What I think is actually happens is there is an old breed of greedy and lazy types of "business" people who think that by marking up 1000% on the price will guarantee easy wealth. Suckers will pay anything right? Wrong. This is slowly dying off, thanks to age of Internet.